Join us every 2nd and 4th Friday starting at 7 PM for Chöd practice.
Chod
Chöd is a ritual feeding of oneself to hungry 'demons' – or the metaphorical transforming of our inner negativities that inhibit compassion and enlightened activity.  It is a very effective and powerful practice that brings the practitioner a strong experience of profound generosity as well as liberation from self-grasping, the root of Samsara.  As long as there is attachment to ego, there are demons.  When there is no more attachment to ego, there are no more demons either!  Self-grasping or clinging to ego, are simply defined as the absence of true knowledge of who we really are and our resulting activity that endlessly tries to sustain this false sense of identity by dividing the world into 'self and other.'  The process of feeding our demons thus is a method for bringing our shadow or illusory self into consciousness and accessing the treasures it holds rather than repressing it.  Traditionally Chöd has been also used as a tool to "clear" physical spaces or to liberate beings that are believed to inhabit such negatively charged locations.
Men-Lha ≈ Medicine Buddha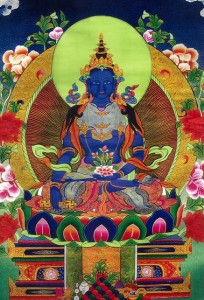 སངས་རྒྱས་སྨན་ལྷ།
The Medicine Buddha is compassionate manifestation of Tönpa Shenrab, the great Enlightened One of Bön (see Bon history). This teaching benefits all who are ill or sick;it liberates them from suffering through Medicine Buddha. Through ceremony, meditation, and visualization, we are freed from obstacles in life and protected. By applying a method of healing and receiving the blessing of Tönpa Shenrab, the power and qualities of our energy are restored.
Sherab Chamma ≈ Loving Mother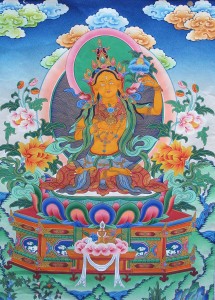 རྒྱལ་ཡུམ་ཤེས་རབ་བྱམས་མ།
Sherab Chamma (Loving Mother) is known as the Mother of all Enlightened Ones and the source of all love and compassion. By Her blessings and energy she eliminates all karmic obstacles. She heals, blesses and guides us wherever we are. Through reciting her secret mantra and prayers, she will expand our life and clear up negative karma, bringing peace and harmony outside and inside domestic area.
Khyung Mar ≈ Red Garuda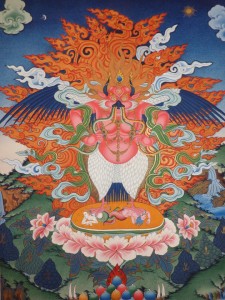 ཁྱུང་དམར།
Red (Mar) Garuda (Khyung) is one of the wrathful deities of Bön. It is a very powerful Tantric teaching especially for overcoming health problems. Red Garuda is practiced as an antidote for Naga and land owning spirits that can cause infection and disease.